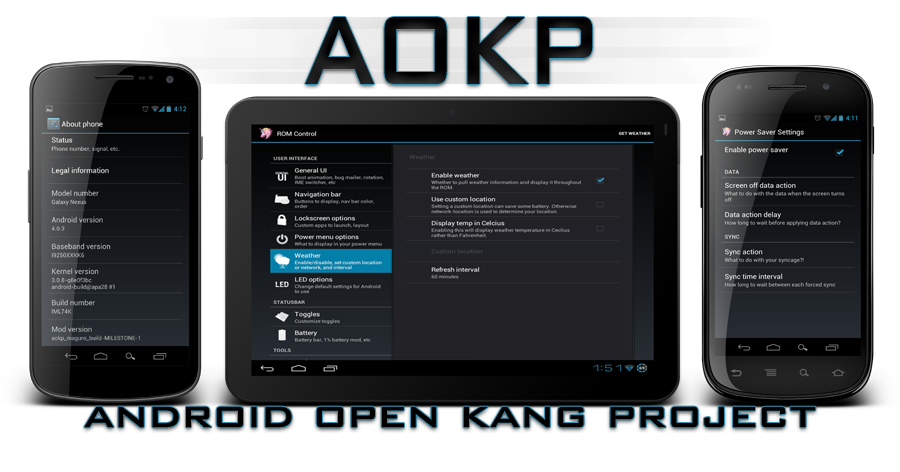 Android Open KANG Project (AOKP) has revealed that, you can easily install the latest version of AOKP build ICS supported ROM firmware in Galaxy S2 Sky Rocket i727 Smartphone. The latest update about this firmware is that, an unofficial stock firmware has been released by Samsung Electronics, but it is a custom made ROM firmware that has been developed by the team of AOKP. Through following some instructions, you will be able to update your Smartphone and it need to follow the following pre-requisites:
All data saved in your device has to be backed up manually through getting assistance with following features. You can't use KIES or PC Suite for backing up all of your data files as the PC Suite does not have the ability to recognize your device while using the custom based firmware.
For SMS, you can use SMS Backup and restoring application.
For contact list, you can sync with the application of Gmail.
For call logs, try the Call Log and Restoring feature.
For Songs, Images, Videos, you have to copy to an external SD or Internal SD card.
For MMS and APN settings, you can note down the pathway of activating these features.
Go to the application option, then settings menu. After that, you have to click to the option named as "Wireless and Network". After clicking into it, you will see an option called "Mobile Networks", and then click into "Access Point Names" option. If you want to enable the USB debugging feature in your Galaxy S2 Sky Rocket i727, you need to click into settings option. Then select applications, and get into the development icon. Click into that option, and you will see an icon named as "USB Debugging". This option has to be ticked. Besides, you have to uninstall or disable all security suites that have been installed in your personal device like computer or laptop as these applications tend to interrupt the firmware updating process. Last thing you need to be sure is the charge of your device. It has to be minimum 60% charged, so that the device does not turn off while updating firmware.
Stay Tuned to Negri Electronics for having more updates on cool Gadgets, latest smartphone & its Apps.